Australians are refinancing their home loans in record numbers, according to the most recent data from the Australian Bureau of Statistics.
In August, a record $17.8 billion of home loan refinancing activity took place. That was:
2% higher than the month before (which was the previous record)
1% higher than the year before
4% higher than two years before
As the graph shows, both owner-occupiers and investors are refinancing at historically high levels.
Why? For three reasons.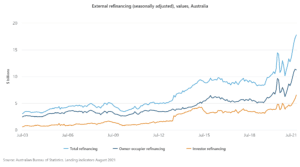 Interest rates are at record-low levels
The number one reason why Australians are refinancing like crazy right now is because interest rates are at record-low levels.
Since November 2011, the Reserve Bank has steadily reduced the cash rate from 4.75% to a record-low 0.10%.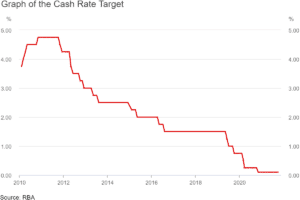 Lenders have followed the Reserve Bank's lead, steadily reducing mortgage rates to levels nobody thought was possible.
Part of the reason so many people are refinancing is to switch to a loan offering one of these ultra-low interest rates.
Lenders offer better deals to new customers
You might be wondering why borrowers need to refinance to take advantage of these ultra-low interest rates. After all, if lenders are reducing their interest rates, wouldn't these cuts be automatically passed on to all borrowers?
Well, unfortunately, lenders tend to pass on some but not all of their rate cuts to loyal customers. But with new customers, lenders tend to pass on more (if not all) of their rate cuts.
The reason lenders treat these different customer groups differently is because:
Lenders know they have to fight hard to attract new customers – because Australia's mortgage market is very competitive, with dozens of lenders fighting for business
Lenders believe they don't have to fight hard to retain existing customers – because many people 'set and forget' their mortgage
For proof, check out another graph from the Reserve Bank. As you can see, the average interest rate paid by loyal customers with outstanding loans (top line) is higher than the average interest rate paid by new customers with new loans (bottom line).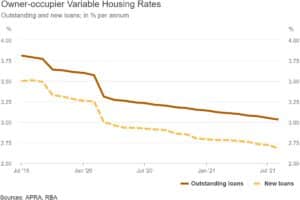 Lenders offer special deals to refinancers
Remember how we said lenders fight hard for new customers? Well, quite a few lenders offer cashback deals to entice refinancers – i.e. they literally give you money to refinance.
Naturally, lots of Australians are taking advantage. Because the only thing better than switching to a better loan is getting paid for the privilege.
Now might be a great time to refinance
If you took out your home loan more than two years ago, it might no longer be competitive – even if you got a great deal at the time.
Refinancing isn't suitable for all borrowers at all times. But it might be suitable for you right now.
If you have more than 20% equity in your home and you like the idea of switching to a better home loan, refinancing might be worth considering.
Want to refinance? Newy Finance can talk you through your options. Contact us by calling Jon Jones on 0410 699 969.